MJIL'S FALL 2019 SYMPOSIUM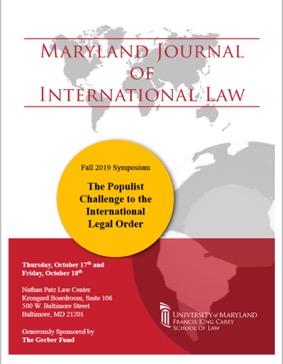 October 17–18, 2019
Keynote: October 17, 2019
5:00 – 6:30 pm
University of Maryland School of Law, Ceremonial Court Room
Symposium: October 18, 2019
9:00 – 5:15 pm
University of Maryland School of Law, Krongard Room
DESCRIPTION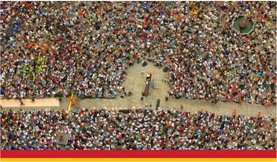 The rise of "populism" has dominated political, legal, and popular discourse. From the United Kingdom's "Brexit," to the election of populist leaders such as Donald Trump in the United States or Rodrigo Duterte in the Philippines, a uniting thread has been populism's deep skepticism of international law and institutions. The continued success of populist ideas poses an urgent challenge to the global legal order.
The Maryland Journal of International Law's Fall 2019 Symposium, The Populist Challenge to the International Legal Order, brings together international legal experts and scholars to examine the populist phenomenon and its potential threat to the global legal order. It caps a three-part strategic, research collaboration between Indiana University, Australian National University and the University of Maryland.
The symposium consists of four expert panels and two keynote addresses, each of which are introduced below:
Evening Gerber Lecture, The Honorable Michael Kirby
Panel 1: The State of International Law Amid the Populist Challenge
Panel 2: Populism and the Rule-Based Trade System
Lunch Gerber Lecture: Professor Diane Orentlicher
Panel 3: Populism's Gender Backlash in International Adjudication?
Panel 4: Another Enemy at the Gates? Populism's Impact on International Human Rights and Migration
ACKNOWLEDGMENTS
Financial consideration for the annual Maryland Journal of International Law Symposium has been graciously provided by The Gerber Fund. The Maryland Journal of International Law would like to thank Mr. and Mrs. Lloyd M. Gerber and their children for their support and sponsorship of our Symposium.
AGENDA
Thursday, October 17, 2019
5:00 – 5:15 pm | Opening Remarks and Introductions
5:15 – 6:30 pm | Gerber Lecture
Friday, October 18, 2019
9:00 – 9:15 am | Welcome and Introductions
Stuart Davis, Editor-in-Chief: Maryland Journal of International Law
Peter Danchin, University of Maryland
9:15 – 10:45 am | Panel I: Scene Setting/National Security
11:00 – 12:30 pm | Panel II: International Trade
12:45 – 1:45 pm | Lunch Address: Gerber Lecture
2:00 – 3:30 | Panel III: Gender
3:45 – 5:15 | Panel IV: Human Rights and Migration
Browse the contents of The Populist Challenge to the International Legal Order, October 17–18, 2019: